AAA Platinum excellence award 2023
The ISOTRA company, a.s. has won the highest rating of AAA Platinum incessantly for five years. This is to confirm that ISOTRA meets the strictest criteria for evaluating economic entities according to the statistical predictive model. This award entitles ISOTRA to belong to an exclusive group of the most trusted companies in the Czech Republic.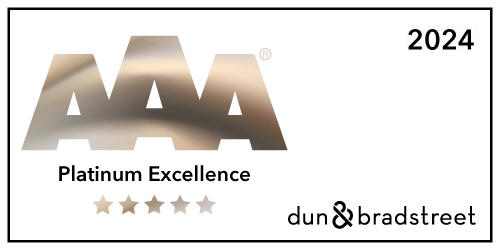 The AAA award is a prestigious independent rating of companies with a history dating back to 1908. Only profitable companies can obtain the award. It is issued in three levels: A, AA and AAA. The certificate confirms that its holders use their inputs beneficially and effectively turn them into quality products or services. Strict rating criteria guarantee the exclusivity of companies that can win the award and thus confirm their strong position on the market. Only a small percentage of economic entities operating in the Czech Republic achieve a certificate with A to AAA rating – only 0.1% of companies achieve the AAA Platinum Excellence award.
Conditions for obtaining the certificate:
Legal entity,
a non-indebted company not being in bankruptcy or liquidation,
the company has no obligations more than 30 days overdue,
published financial statements less than 22 months old,
the company's scoring rating is AAA–A,
the company's own capital (at least CZK 0.5 million) is not less than the basic assets,
profitability on equity of at least 20-25%, or profit margin of at least 3-5%,
the company has a positive economic result (according to the latest financial statements),
the company has been active for at least 10 years, or 4 years, provided the basic assets worth more than CZK 25 million.
The CZECH Stability Award provides an independent view of the company's financial and non-financial creditworthiness. It expresses its current state, financial situation, including a prediction of future risks. The output of the evaluation model is a level on a ten-point scale, where the three best possible levels are AAA, AA, or A. The rating is updated annually and the results are announced in cooperation with the CZECH TOP 100 association.