Company ISOTRA a.s. celebrates 30 years
"A company is like a living organism," say the founders of the Czech company ISOTRA, which has been leading the way in the field of shading for 30 years
When the company ISOTRA was founded in Opava thirty years ago, most Czechs had no idea about exterior shading, and they had to wait for two years for interior blinds. In those days, brothers-in-law Erich Stavař and Bohumír Blachut grabbed the opportunity. The family business grew into a company that employs 630 people, holds 7 patents and 33 utility designs, and exports its products, components and manufacturing technologies to more than 43 countries around the world. In the three decades of their existence, they have sold more than 7 million pieces of shading technology products, of which approximately 1 million pieces are exterior Venetian blinds. We talked about difficult start and the path to success with Erich Stavař and Lýdia Blachutová, who has also been an inseparable part of ISOTRA since the very beginning.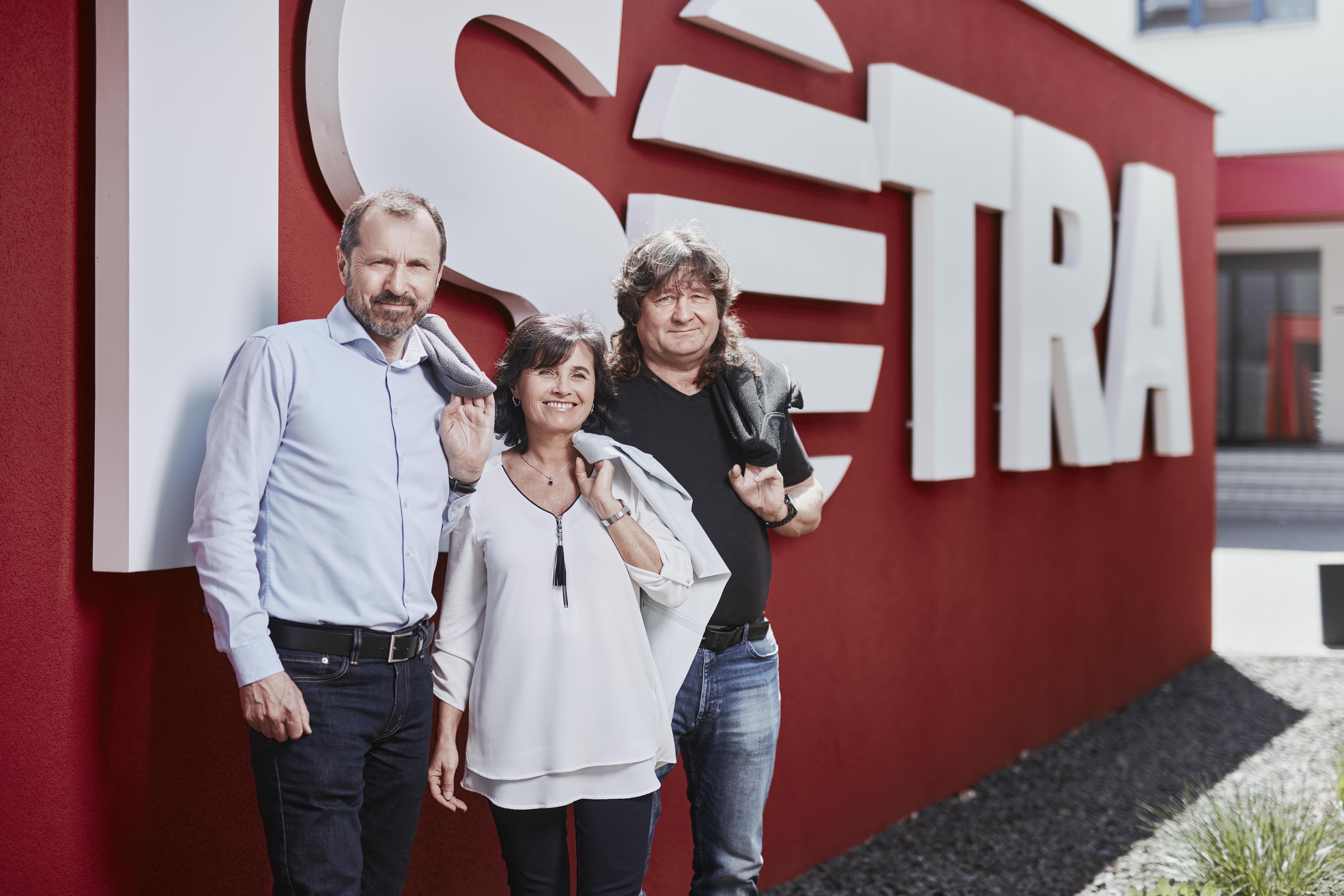 ISOTRA celebrates 30 years on the market this year. What do you consider your greatest achievements?
Erich Stavař: When I look back, I see a whole series of achievements that I value very much. The most important thing was the courage to start the business and found ISOTRA, which literally grew before our eyes. We started with assembling window seals, and when we started producing Venetian blinds with chain control, the turnover grew from CZK 60 million to CZK 200 million. Another great success was the acquisition of a production site in Opava on an area of 55,000 m2 with extensive production facilities. Our product portfolio continued to expand – we started producing exterior blinds and other exterior products, such as screen roller shutters and awnings. We built our own paint shop and established branches not only in the Czech Republic, but also abroad. We have expanded to Germany and Poland; we value our business cooperation with Labona.cz e-shop. ISOTRA's achievements include the change of the company to a holding structure and the recent expansion of the production premises in Bruntál with an area of over 7,000 m2.
You stood at the birth of the field of shading in the Czech Republic and were direct witnesses of its boom. How has the field of shading technology changed in your eyes during such a long time?
Erich Stavař: The field has changed beyond belief. Imagine that 30 years ago, delivery times for common interior blinds with a cord or pull control were almost two years! This "hole in the market" was a clear signal and challenge for us to start a business in this field. In the first wave, we therefore created a register of customers for the installation of these common interior blinds. A big boom was brought about by the replacement of outdated windows with modern plastic ones, Euro windows and AL windows. This related to the installation of new types of interior blinds - chain control came to the market, vertical blinds and little fabric roller shutters appeared. Other big changes were brought about by the production of exterior shading technology, especially exterior blinds. This is the most effective type of shading, especially in terms of thermoregulation. Gradually, we also started to develop screen roller shutters, awnings... This global trend continues until now, just like the wave of so-called "outdoor living". People have a need to spend as much time as possible outside in the open, on the terrace. The growing demand for bioclimatic pergolas, including roller shutters, is related to this.
Do you remember the first impulse that led to foundation of the company? Were you apprehensive about the business, or did you get down into it "head over heels" so to speak?
Erich Stavař: It was the early 90s and private business was finally allowed in the Czech Republic. Therefore, my brother-in-law and I were looking for a suitable opportunity to start our own business. Window seals appeared to us to be very promising, because the modern silicone seal in the groove replaced the outdated "Oknotěs". When we installed window seals in apartments and houses, customers asked us: "Do you also make blinds?" At that time, exterior blinds were not even on the market, and the waiting time for interior blinds was up to two years. The idea of starting a company was suddenly born. Because we did not only installation of window seals, but also wholesale of seals, we named the company ISOTRA. It was a combination of two acronyms: ISO for "isolation" and TRA for "trade".
Lýdie Blachutová: We still have a coupon book from the first wave of privatization hidden to this day, which my husband "sold" for CZK 12,000. Thus, financially equipped, he launched into business. (laughter)
The company was therefore established as a family business. What are the advantages and pitfalls of family businesses?
Lýdie Blachutová: It is often difficult to divide it. It's like two interconnected vessels. The company is all the time with you like a shadow. You take a step forward - and the company is with you. You take a step back - and it is with you again. You won't run away anywhere…. (laughs) The feeling of responsibility that accompanies you all the time is hard to put into words. Rather, one feels it inside oneself. You feel like a part of something big. Like something created only by you in this life and with the given possibilities. The advantage is that we are not alone. We have a family that we can rely on, we give each other advice and help. We can also caress each other, unify our direction, agree on the next steps. Share know-how. And pull the "cart" together. Family background is one of the most important things in private business. I am convinced of that.
How would you briefly describe the first, second and third decade of the company?
Erich Stavař: The first decade could be summarized as follows: starting a business, development and production of interior blinds and shading technology, establishment of our own development department, tool shops and plastic and metal press shops, start of component production, purchase of real estates in Chuchelná, Rohov. The second decade progressed with the start of the development and production of exterior Venetian blinds, exterior roller shutters, production of components for exterior blinds, but also production of CNC-controlled profiling lines, acquisition of the production premises in Opava. And the third decade? During the third decade our own powder coating plant was built, we started production and development of other types of exterior shading technology – awnings, screen roller shutters, bioclimatic pergolas.
Have you also experienced tough moments in your business?
Erich Stavař: Nothing in life is free of charge. If you want to do business honestly, there is only one acceptable way. And that's hard work, courage and determination, a clear goal. Set a clear goal and say to yourself: Where do I want to go? What do I want to achieve? What do I need to do to achieve this? To do this, you need a team of loyal and capable people who you can rely on and who can help you. More challenging moments can occur when a team does not see the same goal, or even sees a different goal. Here, a lot depends on mutual communication and finding a compromise. On relationships. But when you manage to find a common path, it's a great satisfaction and feeling of a job well done. And lessons for the future as well.
Lýdie Blachutová: We also experienced rough times when, due to market fluctuations in 1997-1998, there was an almost immediate drop in orders by more than 30%. We were also affected by the financial crisis of 2008-2012.
Have these difficult times become opportunities for you to learn for the future?
Lýdie Blachutová: Yes, these experiences became an important source of learning for us, when we began to monitor the macroeconomic environment and predict the possible further development of the market very sensitively. At the same time, we started creating reserves for possible situations of similar nature.
The covid situation also caused a crisis for many companies. How did it affect your business, whether in a positive or negative sense?
Erich Stavař: In the covid era, at the very beginning, we made a few cost-saving measures, both on the organizational and the financial level. We tried to prepare for several possible scenarios. I must state that our steps were met with support and understanding of our employees. During the course of the anti-pandemic measures, we tried at all costs to maintain production and deliver goods to our customers, even though we had dozens of employees, especially on sick leave and in the hospital. Uninterrupted production was perceived very positively by our customers.
Lýdie Blachutová: The fact that people spent a large part of the year at home led them to invest in furnishing houses and apartments. For us, this meant an increase in orders from our customers. The crisis uncompromisingly showed us the reserves in the organization of processes in the company and at the same time outlined the possibilities and perspectives for further development.
How have your customers changed in 30 years? Have their demands or preferences been changing?
Lýdie Blachutová: There have been significant changes over the past 30 years. When we started, customers had almost no information. There was no internet, no mobile phones, news was found out only at trade fairs and at most from advertising leaflets. Over the course of 30 years, the customer has become much more demanding and informed about the products and services that are offered on the market. There have also been fundamental changes in preferences from interior shading technology to exterior shading technology. Currently, there is a growing need to be outdoors as much as possible, on the terrace - and that is why we started the production of ARTOSI bioclimatic pergolas.
You have been exporting your products abroad since 1998. To how many countries do you currently export, and which foreign market has the greatest potential for you?
Erich Stavař: We currently export our products, components and technologies for production to more than 43 countries around the world. Our key markets include Germany, Austria, Slovakia, Poland, France and Switzerland. Because we are aware of the enormous potential of the German market, we have established our trading company ISOTRA Jalousien GmbH here. With this step, we want to adapt to the demanding German market and ensure the best possible service for our customers. In Poland, we founded the production company ISOTRA Polska Sp. z o.o. with the aim of adapting to the price level of the Polish market and its market habits.
Are customers different from different countries?
Erich Stavař: Every market has its own specifics and customers have different preferences and demands. For example, customers from Germany or Switzerland are very demanding on quality and detail. By far the most demanding customers are from Japan, which can be counterproductive in some cases.
Are the Czechs specific in something?
Erich Stavař: Czech customers are becoming increasingly demanding, especially regarding requirements for short delivery times.
Do you have any idea how many products you have already sold in the past 30 years? Which type were your customers most interested in?
Erich Stavař: It can be estimated that we sold more than 7 million pieces of shading technology products, of which approx. 1 million pieces were exterior blinds. In the early days of the business, it was interior blinds, now it is exterior blinds.
You were two when you started. How many employees does the company currently have?
Erich Stavař: We currently employ approximately 630 employees, including agency employees.
Your business requires a number of investments. How much investment have you had to make over the past 30 years and what do you invest in the most?
Erich Stavař: The investments for the past period were in the hundreds of millions of CZK. These were mainly investments in production technologies and production premises.
What investments are you planning for the future?
Erich Stavař: In the near future, we plan to invest funds in the production plant in Bruntál and we are working on processing a building permit for the start of construction in Opava.
You are significant innovators who are always coming up with new solutions. How many patents have you acquired in 30 years?
Erich Stavař: We hold 7 patents and 33 utility design models.
Can you tell us what you and the development team are working on now?
Lýdie Blachutová: We are currently focusing on automation in production, robotics and other projects that we would not like to talk about yet.
Shading technology is closely related to energy saving. How important is environmental issues to you?
Lýdie Blachutová: Environmental issues are very important to us, we hold the ISO 14001:01 certificate, which specifies the requirements for the environmental management system. Shading technology, and especially exterior shading technology, is very closely related to the energy saving of buildings and houses, both in summer and winter. In summer, it significantly protects the interiors of buildings from overheating and the need to use expensive air-conditioning units. In winter, it prevents unnecessary heat leakage and radiation from the interior to the exterior.
You are among the most successful Opava companies. What is your relationship with the Moravian-Silesian region?
Erich Stavař: We are here at home. We know the mentality of the local people and their customs. People in our region are very hardworking and reliable. We know we can rely on them. Of our first 30 employees, 6 of them still work for us. This says a lot. When working with people, the old proverb applies: "As you sow, so shall you reap." For 30 years, we have been trying to ensure that the harvest we reap is kind, respectful and friendly. And we are very happy from every praise that comes to us. When I come to a pub and local people invite me "for a shot" or buy me a shot straight away, it's a big appreciation in the village. (laughter)
You are known for your positive attitude towards sports and charity. What organizations or projects do you support?
Erich Stavař: We support Silesian Football Club Opava and Basketball Club Opava. We also became one of the main partners of the extra-league hockey club Rytíři Kladno. We are pleased to cooperate with Jaromír Jágr. We value people who have achieved something in their lives, act from the heart and do not only have their own benefit in mind but want to support others. Jaromír Jágr's hard work and his achievements speak for themselves, and in addition, he behaves completely humanely, and that is crucial for us. Within the AHL we also have our hockey team HC ISOTRA and within the amateur bowling league we have our ISOTRA team. We also organize an international amateur tennis tournament.
Lýdie Blachutová: When it comes to charity events, we especially support seriously ill people and disabled children. We also help the disabled with shading technology.
What are your prospects for the next few years? What is the target for 2022 and what are the company's long-term goals?
Erich Stavař: Of course, there are many new goals ahead of us, one can never stand still in business. We are currently investing in the acquisition and development of new production premises in Bruntál with an area of more than 7,000 m2. The premises will primarily be used to expand the production of ARTOSI bioclimatic pergolas. We are responding to the change in lifestyle, when people want to spend much more time with their family and friends in outdoor spaces and prefer so-called outdoor living. Within the production plant in Bruntál, we implement the installation of complete technology for the production of bioclimatic pergolas, including logistics flows and storage capacities. Our goal is to optimize production, automate it and thus enable significant increase in production capacity.
Lýdie Blachutová: Due to the development of the market for bioclimatic pergolas, we are preparing another modification of the ARTOSI pergola – side glazing of the pergola and technological innovations. Due to the growing demand, we are preparing the production of a sheltered parking, where we are going to use the existing design of the pergola with a modification of the roof structure. The long-term goal is to increase market share in key export markets and develop a partner network in the Czech Republic.
You are constantly developing and looking for new technical solutions... Can you imagine where the shading technology is going to move in the future?
Erich Stavař: The trend of exterior shading technology and outdoor living will continue. This is related to the worldwide growth of the market for exterior blinds, screen roller shutters, and bioclimatic pergolas. "Intelligent control systems of shading technology" will become a standard solution for administrative buildings, commercial buildings and family homes.
How will you celebrate the company's 30th anniversary?
Lýdie Blachutová: During this year, we plan a whole range of marketing and PR activities and social events. Among the most important are meetings with our employees and meetings with our business partners. As part of these meetings, we would like to celebrate ISOTRA's 30 years anniversary in a dignified and also "tumultuous" way.
What would you wish for the company in the forthcoming years?
Lýdie Blachutová: Because the company is like a living organism - good health, luck in decision-making, a firm hand in implementation, a lot of patience in trading, plenty of ideas in development, unceasing vigour in production and flourishing cooperation across all departments - including our customers. All this interwoven with optimism, mutual respect and a friendly atmosphere. Let our customers become our friends.
What is your motto for business and for life?
Lídie Blachutová: For business? Knowing where I want to go, what I want to achieve and doing everything for it as best as I can. And for life? To look back and be able to say, "Yeah, it was fast and wild, surprising and often challenging, but also joyful and loving. Yes, I made it and it was worth it! Thanks for the time given to me.'