New concept for interior atmospheres – Sunlite fabric roller-blind
A mysterious atmosphere with the warm feeling and intimate shade of the interior is provided by the new Sunlite blind from ISOTRA.
Even though light is usually subconsciously, it determines feelings, moods and the will to do something. A well lit room supports mental and physical activity, whereas soft lighting calms and encourages relaxation.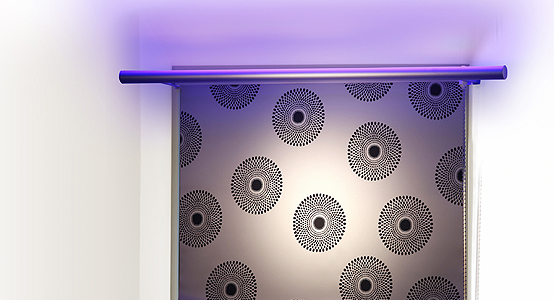 Have you noticed that due to the light we feel the atmosphere and the appearance of a room in a different way? The intensity of the light depends on its orientation in the interior, its architectonic solution, the number and size of the windows and the positions of the lights. However, you can react to various lighting conditions only through the shading technology. This decreases the impact of sub-beams, and perfectly darkens the room while creating an intimate and magical atmosphere.
The latest trends in interior shading technology focus on textile blinds. The main reason why house and flat owners prefer them to traditional blinds is not just their ability to control sunlight, but also their decorative character. Moreover, they have the extraordinary ability to optically modify special features – single-colour light blinds "increase" small window size, significant colour patterns come to the fore on large windows. Blinds with vertical strips make them optically slim, whereas horizontal strips will give the impression of being shorter.
These beautiful designs are Sunlite fabric roller-blinds from ISOTRA. They give the room grandeur while merging with the modern and traditional concept of your house. You can emphasise your interior style from a selection of textiles, attractive patterns, harmonious colours and harmonisation with the decorative upper bar in two versions. If selecting a cloth with full darkening effect, then an afternoon nap will be just like sleeping at the night – the high-quality material will not let a single beam of light through.
After darkening, the Sunlite fabric roller-blind will change into a decorative element with the ability to create an atmosphere according to your current location. The unique LED diode lighting incorporated into the upper decorative bar of the blind aids mental relaxation during cloudy autumn and winter months. The LED diode strip provides white or colour RGB light – the intensity and colour regime can be easily set on the remote control unit. Then, just switch according to your choice of colour or change the darkening.
The new series of Sunlite fabric roller-blinds is an elegant and suitable solution for houses, flats, coffee bars and restaurants.