Trade Fair R + T 2012, Stuttgart
It was already the fifth time that ISOTRA participated in the most prestigious trade fair of shading technology, R+T 2012 in Stuttgart. On the area of 210 m2, new products and trends from the area of shading technology and production technology were presented. The trade fair was also a very important milestone from the perspective of the company's corporate communication – on the occasion of its 20-year presence on the shading technology market, the company introduced there its brand new logo.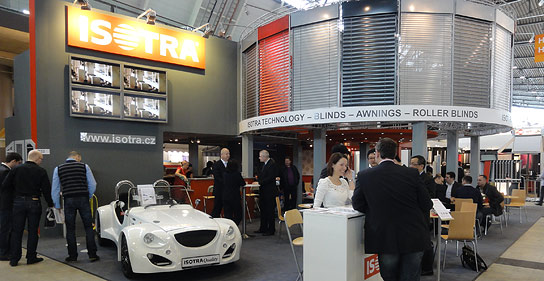 The company's product portfolio was expanded by several new products. For example, the new exterior Setta blind was introduced. This blind represents a state of art product in the area of exterior shading from the efficiency and design point of view. The variability of its installation, elegance and perfect shading make this exterior horizontal blind a unique shading element for all types of buildings.
General public had the opportunity to see our new types of terrace and basket awnings, which are suitable for covering small as well as large terraces and verandas. Let yourselves to be inspired by individual design trends and an extensive selection of high quality color fabrics, allowing you to choose a solution that will satisfy your desires.
In the area of the interior shading technology, we presented a new line of fabric roller blinds – Sunlite roller blind with a decorative upper bar and led-diode lighting, and two new fabric roller blind Nemo and Luna, originality of which is based on the selection between a classic fabric and a day-night fabric. From the design perspective, you can match the wood imitation of roller blind with given windows. The existing fabric roller blind Verra can now be obtained in the Verra Metal design, which is made entirely of metal and guaranteed for a maximum area of 10 m2.

Another new introduced product from the area of interior blinds is the Cetta Economy blind with slats 35 or 50 mm wide. This blind is suitable for the interiors of apartments as well as production halls, administrative buildings and large areas where functionality and esthetic appearance are emphasized..
The 20th anniversary represents an important milestone of our participation on the market and sends a clear signal to our customers and business partners. The name of ISOTRA represents a guarantee of innovations, reliability, professionalism and tradition. In relation to this milestone, the corporate communication of the company and graphic design of the company's logo changed. The new logo was presented on the Trade Fair in Stuttgart. It was created with maximum emphases on its legibility and clear recognizability in a competitive environment. The unmistakable design of the new logo and its red background represent the dynamics of the company, due to which ISOTRA has been developing for already two decades.