For Veranda HRV52 we can use all types of ISOTRA awning fabrics besides rubberized fabrics, then screen fabrics Soltis 86, 92.
Screen fabrics SOLTIS
Industrial fabrics Soltis are specially designed to provide maximum protection against solar radiation and the penetration of heat while preserving an optimal level of natural light in the interior.
The material is made from a fabric woven from a high-strength polyester fibre, with surface treatment by pigmented PVC. The material is pre-stressed using the Precontraint technology in two directions, ensuring high dimensional stability and strength.
Further advantages of the material include excellent heat-insulating properties, optimal visual and lighting properties, colour fastness (UV-stability), and flame resistance (B1, M1).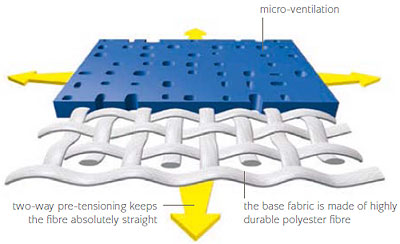 DICKSON awning's fabrics
Awning's fabrics have special surface treatment CLEANGARD which uses ultra-modern fabric protection NPP (Nanotechnology Protection Process). This technology brings maximal water resistancy and protects the fabric against water and dirt from long term view.
Elimination of up to 95% of sunlight / heat. Used fiber SUN ACRYL and technology of fabric coloring (solution dyed acrylic) ensures high color stability of awning's fabrics.
Awning's fabrics are non-toxic and therefore health-consciousness and environmental friendliness is guaranteed. We provide warranty for mold resistance and for color stability (min. 7/8 color stability after ultraviolet rays exposure and bad wind conditions according to standards NF ISO 105 B02 a NF EN ISO 105 B04) for all fabrics for 10 years.
SATTLER awning's fabrics
The fabrics feature special TEXgard surface finish, distinguished by superior quality and long-term protection. This technology prevents ageing and the fabric retains its appearance for a much longer time. Each strand is carefully covered with this protective layer, preventing penetration of water, moisture, and dirt, and supporting the self-cleaning effect. Dirty drops therefore cannot penetrate the fabric, but they remain on its surface and flow down. Each fabric from this collection is made of 100% premium acrylic. The fabric manufacture is environmentally-friendly and is ISO certified.
If the awning fabric is properly maintained, it will remain protected and retain its modern appearance for many years thanks to the technology used. SATTLER fabrics are distinguished by their design, they are very pleasant to the touch, colour-fast, they feature high UV protection, protect from various vagaries of the weather, and repel dirt.
According to their composition and properties, SATTLER awning fabrics are classified in three categories: ELEMENTS, LUMERA, and LUMERA 3D. Fabrics in ELEMENTS category are made of 100% basic acrylic fibre, constituting the unique textile surface of all fabrics within this category. Due to the added TEXgard technology, the fabrics give the product excellent properties like rain and sunlight protection and resistance to dirt. Thanks to the acrylic yarn, the fabrics remain bright and attractive. This category includes Design and Stripes collections.
Fabrics in LUMERA category are composed of 66% basic acrylic fibre and 33% CBA (Clean Brilliant Acrylic). This means one third of the fabric is pure, high-quality acrylic, providing smoother and firmer fabric surface, increasing the self-cleaning effect, the colours are shinier and remain cleaner for a longer time. This category includes Landscape, Landscape Mini, Solids 1, and Solids 2 collections.
The last category is LUMERA 3D, with fabrics composed of 33% basic acrylic fibre and 66% CBA. Fabrics in this category contain twice as much pure, high-quality acrylic than LUMERA fabrics, making them unique in appearance and extremely pleasant to the touch. Fine structure of the fabric is combined with a special optical effect. LUMERA category includes Surface collection fabrics.
The fabrics are welded in vertical rows of about 885 mm wide. The side straps have maximum width of 500 mm, the side edges have constant width of 40 mm.