Specifications
Control: lowering, pulling up and tilting the slats by the motor,
location of the control is anywhere,
box height 40 mm lower than the standard design thanks to a special hanger and eccentric channel mounting
installation of the blind is only in the version with self-supporting guide rails,
standard design of the cover box is 210 mm,
choice of box, bottom and guide rails in DECORAL or RAL design,
maximum dimension 4000 mm.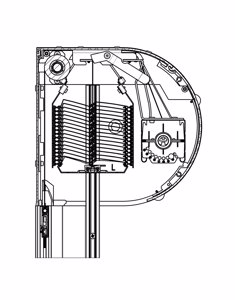 Limited dimensions for Cetta 80 blinds Bravo
BRAVO
Widht (mm)
Height (mm)
Guaranteed area (m2)
min.
without insect screen
600
3500
500
3000
10,5
with insect screen
720
1800
500
2500
3
Using this version, you can save 40 mm of the box height (front cover height) compared to the standard version.
The maximum height of blind, which the box of 210 mm is suitable for.
| Blind typ | Blind height (mm) |
| --- | --- |
| Cetta 60 Flexi | 1900 |
| Cetta 65 | 1900 |
| Cetta 80 | 2200 |
| Cetta 80 Flexi | 3000 |
| Cetta 80 Slim | 2600 |
| Cetta 100 Flexi | 3000 |
| Setta 65 | 1900 |
| Setta 90 | 2700 |
| Zetta 70 | 2100 |
| Zetta 90 | 2500 |